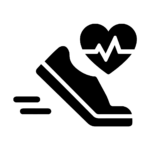 Physiology Excise
We use real physiological data to analysis. In advance, we combined the calculation the study result from international physiology paper and seminar

Physiology Sensors
We put the integration of all familiar physiology sensors (like weight ;BMI ;HRM ;HRV ;breath ..) connect into our cloud-based database.
And set the most security protection from international services.

Exercise equipment
iConsole+ supports almost all kinds of equipment of cardio sports. You may use Elliptical; recumbent; treadmill; flywheel and bikes, etc..
It also syncs with all systems as well.

Algorithm
We adapt newest class and binary regression to calculate personal workout datas.And later use group algorithm to customize and tailor workout plan.

Machine Learning
We use the diversity client and center mechanism to calculate separately to meet the algorithm disposing and arrangement by machine learning.

Excise Posture
Supervised learning uses to detect user posture and tries to monitor modeling by form posture. It will prevent us to excise damages and work effective.